Mangesh Kawade was six when he was told that the night shelter at YMCA,
Juhu, is his new home. For the first few months he was very sad and lonely and
missed his mother terribly who abandoned him at the tender age of five. But
soon he found many boys like him and adapted to his new reality. "I was never
able to tell anyone there that my mother had left me, so I used to say she died.
When I was young, I used to be heart-broken about it, but now it has been so
long that I don't even remember her face."
He is happy that he was admitted to the YMCA night shelter, a place that is
home to several underprivileged boys, by his grandparents at an early age
because as a child he felt a bit lost. "I used to only play and wander in my entire
area from morning to evening. There is absolutely nothing else I liked to do, so
looking back I am glad I was put in this home," says Mangesh, now 22.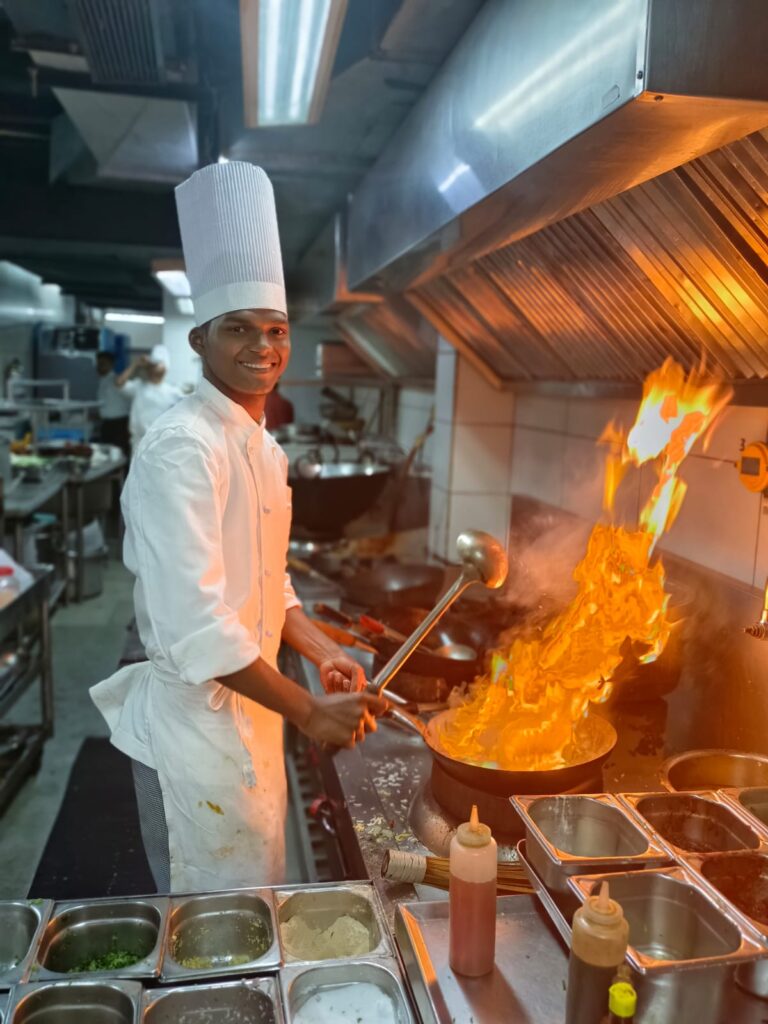 The eldest among three brothers, when Mangesh failed class 9, he gave up on
studies and decided never to look at books again. "I hated studying. After I
failed in class 9, I was determined to never study and decided to join a
restaurant to become a waiter or do some odd-jobs. But a kind lady who was a
social worker came to the YMCA and persuaded many boys like me to study
and make something of our lives."
He took class-9 exams for the second time but to his despair, failed again. This
time he was determined to never give studies another chance. He felt cheated
and betrayed by education. As luck would have it, he failed for the third time.
He was 16 years-old then and wanted to start earning money to financially
support his family as his alcoholic father was also his responsibility.
.However, he was also convinced that he needed to complete his class 10
privately and then do whatever his heart desired. After he turned 18, he took
up a certificate diploma course in hotel management at Don Bosco College of
Hospitality Services, and Catalysts for Social Action (CSA) paid his fees as part
of its Aftercare programme for young adults. Soon thereafter, he got an
apprenticeship with the Taj President Hotel.
He follows the Indian chef and restaurateur, Vikas Khanna. "I really like chef
Mr Khanna. I look up to him. The way he started his life all over again in
New York, it is not easy. From taking up small delivery jobs to part-time
jobs in restaurants and delis to being a judge at Master Chef, Australia and
India…What a journey!" exclaimed Mangesh. He considers himself to be
lucky to have seen Sanjeev Kapoor, Ranveer Brar and Vikas Khanna under
one roof when he was working at The Club in Juhu in 2020.
Mangesh recalls the day he was with his friends in YMCA and at the age of 12.
"When all my friends started telling me I have cooked better than the friend
who wanted to become a chef, I decided, I too will become one. Today, I am a
chef and my friend is a cop," quipped Mangesh, who is now a chef at The
Conservatory, an upmarket restaurant in Juhu and lives on rent with a friend
in Vile Parle. Mangesh says his forte is cooking Chinese and Japanese
cuisine. He says he loves to make sushi but eats only homemade dal-rice.
On this Children's Day, Mangesh wants to tell his younger self, "You Did
It!"
It is estimated that there are approximately 50,000 youth who leave
institutional care every year. Unlike Mangesh, few get the support
required for pursuing higher education or vocational training after they
turn 18, when they have to leave the institutions. Sadly, enough most boys
end up in low paying jobs and most girls get married off due to lack of
support. Mangesh was among the lucky few who received the funding
and backing from CSA to help his dream come true.